ORIGINAL FOLLOWERS OF THE SOMME CAN SEAMING LEGACY
A Norwegian family business that started up in the Spanish city of Bilbao more than one hundred years ago. Creativity was always a fundamental pillar, which lead to the manufacture of all kind of industrial machinery. Eventually we specialized in can seamers becoming worldwide-known.
In 1891 the Norwegian Johannes Kielland Somme (a relative of the novelist Alexander Kielland) and his wife Anna Petersen arrived in Spain from the city of Stavanger.
Johannes had been hired by the Norwegian timber company Sorensen Yakhelln & Cia ("La Compañía de Maderas") with offices in several Spanish cities. In 1904 he was named manager of the Bilbao branch. Its central warehouses were located on the site today occupied by the Guggenheim museum.
At that time industrial development in Bilbao was in full swing and there was a need to import Scandinavian pinewood for both mining and shipbuilding.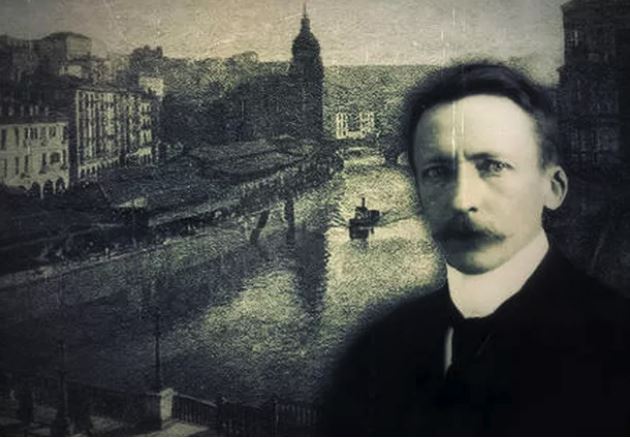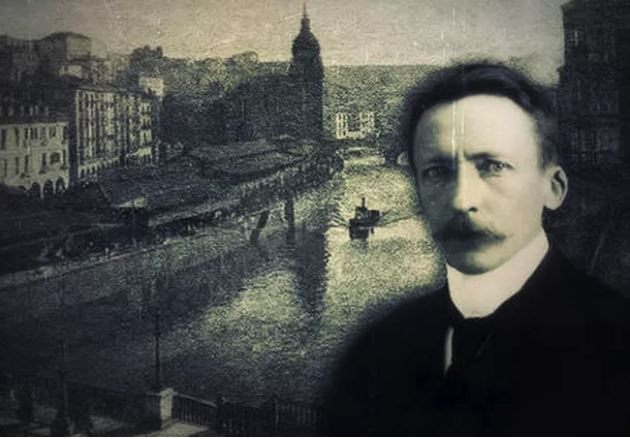 In 1905 Norway became independent from Sweden and that same year, Johannes founded the company "Sömme & Sundt". They manufactured mills for crushing rocks, rubber rings for cans, gas generators in their workshop at Hurtado Amezaga 11 and represented various Norwegian companies. Among these were Grei engines, Balata Atlas transmission belts and C. Middelthon can seamers.
C. Middelthon was the manufacturer of the new Reinerts irregular can seamer, an improvement on the earlier machine patented by Soren Opsal in 1900. This machine could seam 8000 cans a day, a real revolution. Until that time cans were soldered one by one, so the introduction of the Reinerts was to lead to the disappearance of the ancient skill of can soldering.
In 1906 Johannes Kielland Somme became the first consul of Norway in Bilbao.
Shortly afterwards they also began to manufacture seamers for round cans, under the SOMME brand. More than 500 can seamers were sold in Spain and Portugal.
In 1930 Johannes Kielland Somme died at the age of 60. His sons, Jan, Carlos and Jacob continued the family business by starting up a new company called "JUAN SOMME, Sucesor de Sömme & Sundt" (subsequently renamed SOMME S.A.). They moved to new workshops at Iparraguirre 62-64, Bilbao, with a main office at Marcelino Oreja.
During the Spanish Civil War, the Somme brothers sold portable stoves to the soldiers on both sides of the front. After the war Spain was devastated and isolated, so there was a need to manufacture all kinds of machines and gadgets. This was the most creative period for the company.
At this time SOMME manufactured the semiautomatic can seamers S-220, S-222, S-230, S-240, S-250 and the fully automatic S-312, S-315, S-316, S-318, S-320, S-325. A can manufacturing plant and a plant for compounds that was later sold to La Artística de Vigo was started up.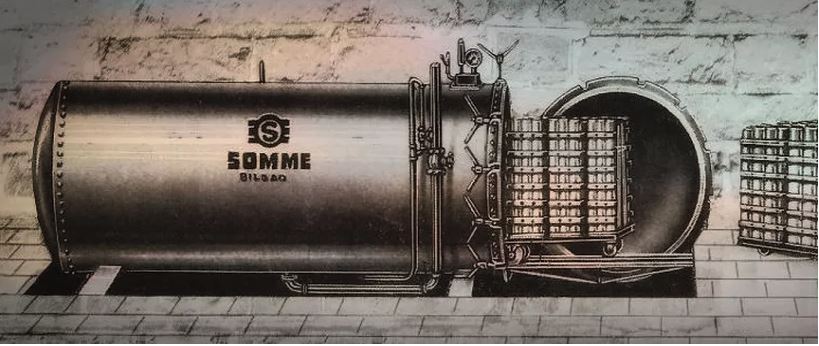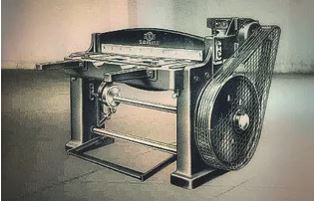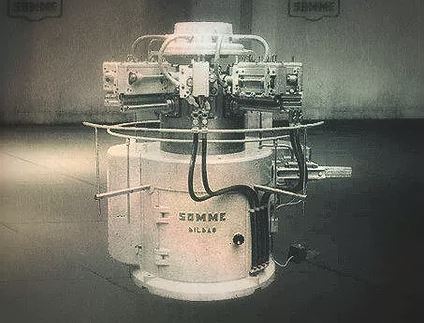 In addition to can seamers SOMME also manufactured:
Crushing mills for grinding flax seed and mustard.

Presses and folding machines.

Sterilizing retorts.

Disc shears (sold to SEAT and Barreiros).

Can body welders.

Marine engines.

Irrigation pumps (Athletic Club of Bilbao stadium was watered for many years by their pumps).

Cervera  gas generators.

Portable camping stoves.
In
1960
the company
moved to larger facilities
on the outskirts of Bilbao, in the municipality of Erandio (Ibarra 7) beside the Nervión river. Carlos and Jacob left the company and embarked on new business projects. Jan Kielland Somme now had sole responsibility for the family business, becoming the main shareholder.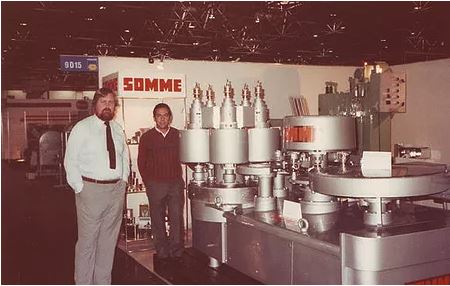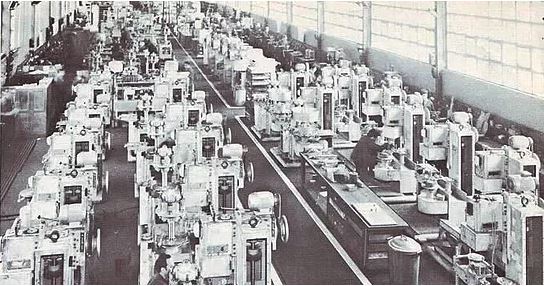 In 1972 Oscar Somme (Jan´s son) joined the company. It was during this period that development of the modern automatic can seamers began. More than 30 different models were introduced, with the stand out models being MARINA 424, 444, 434, 343, 333, Elsa, Diana 353/363/383, Galicia, Fortuna 363/383, Nora, 323, etc.
New mechanisms such as the 6 pistons rotary clincher, short cycle seaming head and stainless steel finish, were added. The work-force grew to 200 and the firm became world-wide benchmark for the manufacture of non-round can seamers.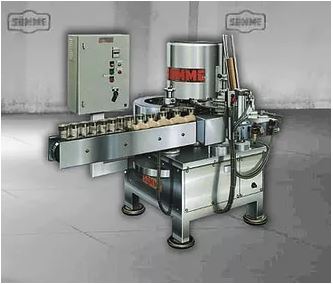 Elsa legacy can seamer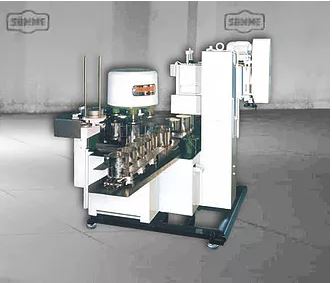 343 legacy can sealer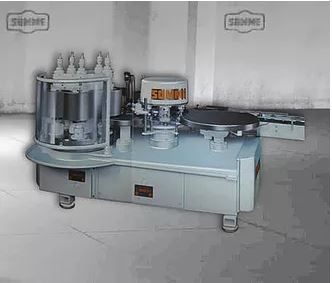 Marina legacy can closer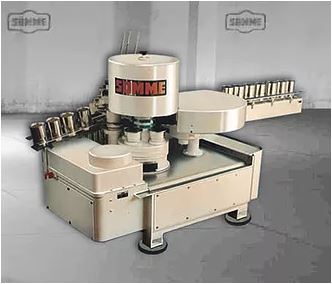 Diana 353 can seaming machine
In
1990
, after almost one hundred years, SOMME S.A. closed down due to the effects of a lack of workforce flexibility and a slump in its traditional markets. The family saga was reborn in
1997
when Oscar Somme founded JK SOMME, a company that took its name from the initials of Jan Kielland Somme.
JK SOMME returned to the manufacturing of SOMME flagship models, under new, more commercial names. The non round can seamers MASTER 446 (ex-S-444) and VIKING 465 (ex-Marina 424) began to be produced with numerous technical improvements. Both machines featured ingenious new heads with dragged seaming rolls, which enhanced the seaming quality.
In 2000 Axel Somme (Oscar´s son) joined the company, making him the fourth Somme generation. In 2005 the company celebrated its centenary launching the BOX class. Over its six year commercial lifetime more than 100 MASTER 446 BOX and VIKING 465 BOX were sold.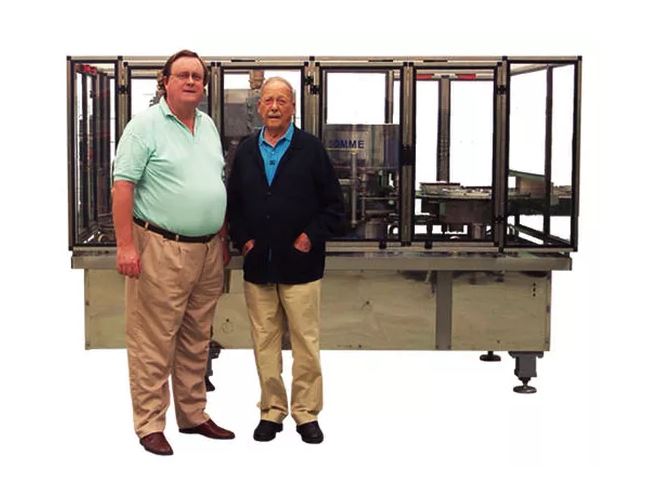 Due to the rapid growth of the company, it was decided to move the entire operation to new, larger facilities on the industrial complex of Santecilla, 25 km from Bilbao. 2011 saw the launch of the In Blue range in a clear commitment to quality and design. The first In Blue seamers were installed in France, Portugal and Brazil.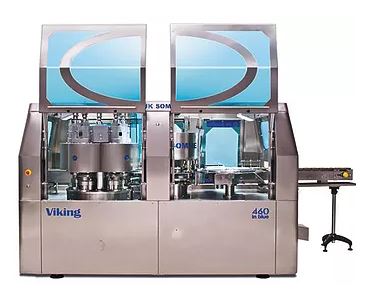 Viking 460 in Blue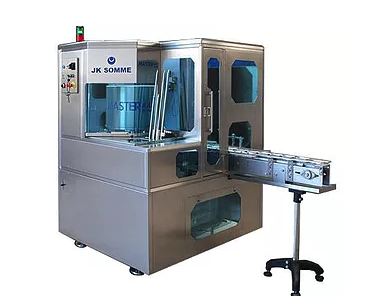 Master 440 in Blue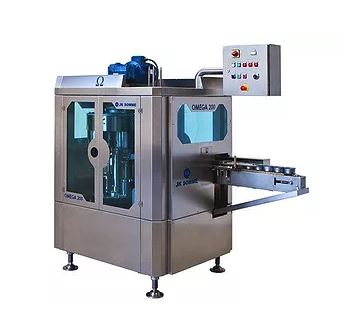 Omega 200 in Blue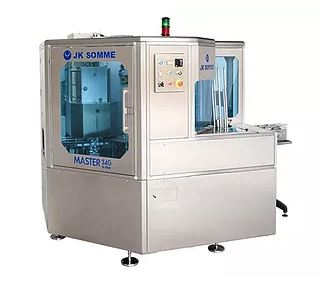 Master 440 in Blue
During 2016 and 2017 JK SOMME had a frenetic design activity. The Viking 300 Rapid irregular can seamer, faster than ever before and with an innovative clincher for seaming large sardines, was introduced. In addition, both Master 440 and Master 340 were redesigned meeting the ECO denomination.
New medium performance can seamers were also developed, such as Neptun and Robot. Furthermore, the Saga high speed can sealer family saw the light, including Saga 4M, 6M and 8M for up to 600 cans/minute.
This intense engineering schedule is part of a wider plan for increasing our range of machinery. New can seamers will be introduced for fulfilling segments today unattended by our company.